Brown University's Smith Swim Center, home of the Bears' swimming, diving and water-polo teams will not re-open following to the deterioration in the strength of the heavy timbers that support the roof structure.
The announcement was made by Russell Carey, interim vice presiden for campus life and Michael Goldberger, director of athletics.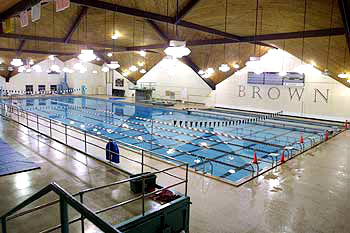 The swim center was closed earlier this year as a precautionary measure after the discovery of several problems in the building's roof system. The faclity underwent an extensive evaluation of the damage and the review determined that there has been a slow but serious and irreversible deterioration in the strength of the heavy timbers which support the unique facility's roof. <p> The damage does not however, threaten Brown's athletic programs. Though the closure of the facility temporarily displaces the teams, it could prove beneficial in the long run. In a letter to aquatic center patrons, Carey and Goldberger explained that repairs to the damage would be prohibitively expensive and not cost-effective. That could mean a new den for the Bears with a new aquatic center a distinct possibility.
The two acknowledged the challenges faced by this years teams noting, "All of our teams have, under the leadership of head coaches Peter Brown and Jason Gall, adapted with grace and resolve to the challenges of this year. Our priority for the next academic year is to enable our student-athletes to sustain their training at the high level they deserve. We recognize the difficulty this situation imposes on our student-athletes, and we are committed to supporting them fully during this period of time, including the provision of training trips and other opportunities to enhance their experience."
Most importantly, they noted the teams' futures were not in jeapordy. "The University will provide the necessary additional resources to ensure strong programs for our student-athletes."
Officials are currently exploring contingencies for next fall's training and competition with decisions coming forward at the end of May when the Brown University Corporation meets. Please feel free to contact either one of us with questions, concerns, or suggestions. We will provide you with further updates as soon as they are available. We greatly appreciate your support of Brown and Brown athletics.